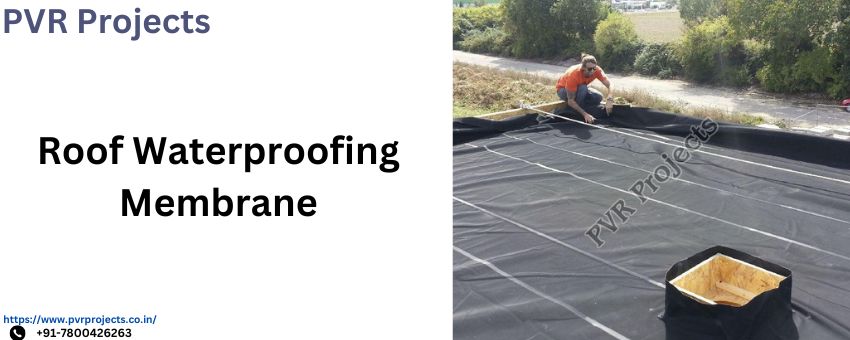 A roof is one of the most critical components of any building, providing shelter and protection from external elements. However, it is constantly exposed to harsh weather conditions, including rain, snow, and extreme temperatures. Over time, these elements can lead to water leakage, which can cause severe damage to the structure and interior of the building. This is where roof waterproofing membranes come into play supplied by the reliable Roof Waterproofing Membrane supplier.
Types of Roof Waterproofing Membranes
:
Bituminous Membranes: Bituminous membranes, also known as asphalt or tar membranes, are one of the oldest and most used types of waterproofing materials. They are composed of a mixture of bitumen and various reinforcement materials, such as fibreglass or polyester. Bituminous membranes are known for their excellent waterproofing properties and durability.
Thermoplastic Membranes: Thermoplastic membranes, such as PVC (Polyvinyl Chloride) and TPO (Thermoplastic Olefin), are gaining popularity in the roofing industry due to their flexibility and ease of installation. These membranes are heat-welded at the seams, creating a watertight bond. They offer excellent resistance to UV rays, chemicals, and weathering.
Synthetic Rubber Membranes: Synthetic rubber membranes, including EPDM (Ethylene Propylene Diene Monomer) and CSPE (Chlorosulfonated Polyethylene), are known for their elasticity and long-lasting performance. They are highly resistant to UV radiation, ozone, and extreme temperatures. Synthetic rubber membranes are often used in low-slope and flat roofing applications.
Benefits of Roof Waterproofing Membranes
:
Leak Prevention: The primary function of a roof waterproofing membrane is to prevent water infiltration. By creating a seamless and watertight barrier, these membranes protect the underlying structure from moisture-related damage, including rot, mould, and deterioration.
Increased Durability: Roof waterproofing membranes add an extra layer of protection to the roof, enhancing its durability and lifespan. They act as a shield against weathering, UV radiation, and mechanical damage, ensuring the structural integrity of the building.
Energy Efficiency: Some types of roof waterproofing membranes, such as white or reflective membranes, have excellent solar reflectivity properties. They reflect a significant portion of the sun's rays, reducing the heat absorbed by the roof and lowering the cooling load of the building.
Versatility and Adaptability: Roof waterproofing membranes can be installed on various types of roofs, including flat roofs, sloped roofs, and green roofs. They can accommodate different architectural designs and roofing materials, providing a versatile solution for any building.
Qualities of the Roof Waterproofing Membrane Supplier
Reliability and Experience: Choose a supplier with a proven track record of reliability and experience in the industry.
Quality Products: The supplier should offer top-quality roof waterproofing membranes that meet industry standards and specifications.
Wide Range of Options: A reliable supplier should offer a diverse range of roof waterproofing membranes to cater to different project needs.
Technical Support and Expertise: Look for a supplier that can provide technical support and expertise throughout the purchasing and installation process.
Customer Service and Responsiveness: Good customer service is crucial when dealing with any supplier. Choose a responsive, attentive, and dedicated supplier to meet customer needs.
Competitive Pricing: While price should not be the sole determining factor, choosing a supplier that offers competitive pricing is important.