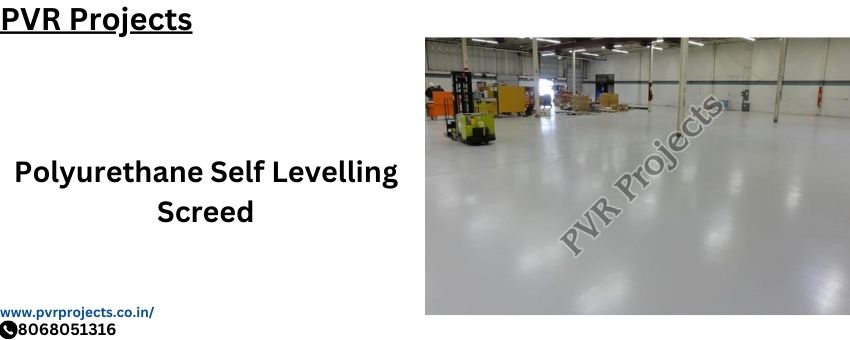 The world of building and design has seen a tremendous change when it comes to flooring options throughout the years. One of these developments, the Polyurethane Self Levelling Screed, has completely altered the way we think about concrete floors by providing a bevy of great benefits.
Continue reading to know the factors that contributed to Polyurethane Self-Levelling Screed Supplier recent surge in popularity.
100% Solids (Solvent-Free)
Polyurethane Self-Levelling Screed is a solvent-free solution that is suitable for indoor uses and is safe for the environment. It guarantees a better living or working environment by preventing the discharge of dangerous volatile organic compounds (VOCs).
Two-Component Marvel
This material's two-component composition is among its most unique qualities. A strong, self-levelling screed with unrivalled durability and strength is produced by combining a resin and an activator, which are combined in a specified mixing ratio.
Developing Your Excellence
This screed is self-levelling, as the name would imply. After being applied, it distributes and levels itself across the surface with ease, guaranteeing a smooth and even finish. This function reduces the need for labour-intensive manual levelling and produces a polished, expert look.
Stunning Colour Palette
There are many different colours available in polyurethane self-levelling screed. It enables you to tailor your flooring to meet your aesthetic tastes or specific project requirements with choices like light grey and brown. When combined, the outcome is a mellow hue that goes well in any setting.
Control of Specific Gravity and Viscosity
A constant and dependable application is made possible by the material's specific gravity and viscosity regulation. Each batch will function flawlessly and adhere to stringent quality requirements thanks to exact resin and activator levels.
Quick Dry Times
Construction operations must be efficient, and this screed offers fast drying times. It dries to the touch in about 40 to 50 minutes at 30 degrees Celsius, thus decreasing downtime and speeding up project completion.
Variety of Temperatures
This screed can survive tremendous temperature changes ranging from 5 to 50 degrees Celsius, from sweltering summers to bitterly cold winters. Due to its adaptability, it may be used in a variety of situations and temperatures.
Compatibility with Quartz Filler
Quartz filler can be included in polyurethane self-levelling screed to improve operation and offer an additional layer of durability. Its longevity is increased by this characteristic, which also makes it perfect for busy places.
Simple Application Process
Applying with a notched trowel makes the procedure simple and accessible to both experts and DIY enthusiasts. An equal distribution is guaranteed by the material's good flow properties.
In conclusion, polyurethane self-levelling screed is a multipurpose and outstanding flooring option that has revolutionised the building and design sectors. It is a favourite among architects, builders, and property owners because of its outstanding qualities, including its solvent-free composition, self-levelling capabilities, and quick drying periods.
It's no surprise that this material continues to astound and redefine the world of flooring given its astonishing spectrum of colours, flexibility to temperature changes, and compatibility with quartz filler. This amazing screed is a real game-changer in the world of concrete flooring, whether you're remodelling a house, constructing a commercial space, or working on an industrial project.